05. System LED Indications
The system LED indicates the current device status.
LD4 and LD8 on the STM32 Discovery Kit (B-L4S5I-IOT01A) operate as system LED.
LED1 (LD8) is red, and LED2 (LD4) is blue.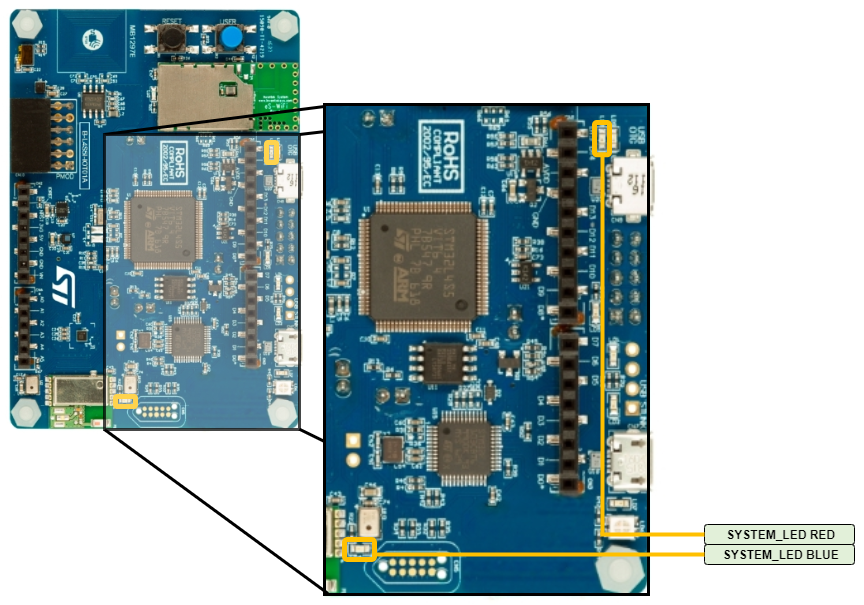 ---
LED1 Patterns

LED1 is the network status indicator.
Condition
LED Pattern
Notes
Power Off
Immediately after boot
When a device is not registered in the NEQTO Console or when an abnormality (failure) is detected in the communication module and it becomes inoperable
(Detailed cause will be displayed in the event message on the User Console)
Out of service area
Within service area
Connection Strength
(When the antenna level indication function is enabled)
LED2 Patterns

LED2 is the NEQTO service status indicator.
| | | |
| --- | --- | --- |
| Power Off | | |
| Starting script | | |
| Connecting to NEQTO Console | | |
| Script running | | |
| Firmware update mode in-progress | | |
LED1/LED2 Simultaneous Operation

LED1 and LED2 operate simultaneously in special cases.
| | | |
| --- | --- | --- |
| Entering User Console Mode | | Displays until the 'start' command is executed |
| Updating Firmware | | Flashes both irregularly. |
---
Updated: 2022-06-03