"Machine Driver" are files or groups of files that users can send to devices connected to a NEQTO Node. As described above, Packages are attached to a Template. Packages can be dispatched to connected devices using the "Machine Driver" command.
The Machine Driver package must contain an operation script (neqto.js) for the Machine Driver. Please add it as a file name "fup.js".
Add a Package
At the Machine Driver page, click the "Add Package" button in the top right corner.
Give the Package a name and, optionally, a note in the first tab, and upload the desired files on the second tab. It is not necessary to upload individual files before hitting "Save".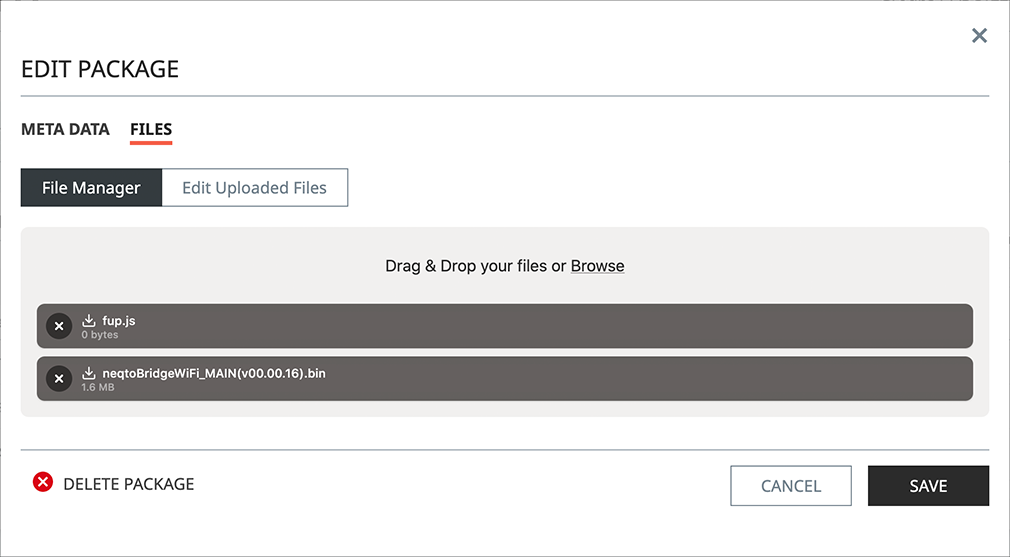 Edit or delete a Package

At the Machine Driver page, click the Pencil icon in the far right column of the desired Package to open the Edit window.
To Edit
Change the name, note, or files associated with the selected Package.
Hit "Save".
To Delete
Click the "Delete Package" button in the bottom left hand corner of the Edit window.
Input the name of the selected Package to confirm, and hit the red "Delete" button.
Related resources
---
Updated: 2022-09-08