neqto: Cloud allows clients to manage and control their IoT deployments at enterprise scale with ease. In most cases, customers send data to their own environments and act on it there, however not all customers are capable of developing the back-end infrastructure needed.
In those cases, neqto: Cloud offers several "applications" as optional services that allow customers to store, monitor, and act on data in neqto: Cloud.
By default, neqto: Apps are opt-out.
Those wishing to use optional services will need to enable them on a per-group basis.
Infinitypool

Customers using neqto: Apps Infinitypool features gain the ability to store data in neqto: Cloud and visualize their data in charts.

In addition to charts, when available basic statistics, CSV/Excel format exports, and real-time functionality is also included.

To enable this feature for a Group, please enable Infinitypool in the group settings.

This will open the group settings window where Infinitypool settings can be found.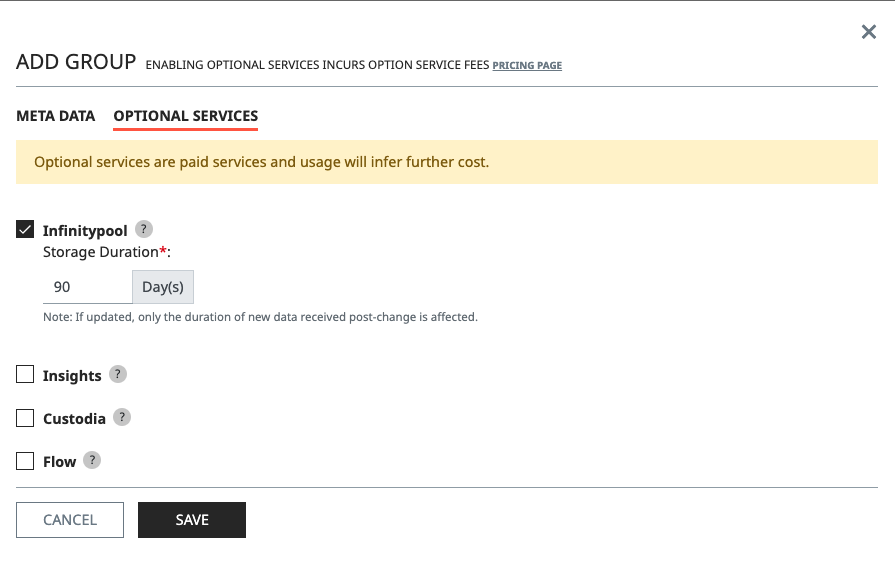 Please set the amount of days you would like to store data for.
Data is stored for however long the duration was at the point of ingestion. This means once data is stored, the duration cannot be updated.
New data will use the current storage duration setting.
To view data in neqto: Cloud form the Console
Go to your node's dashboard.
From the Components list, click on the bolded "Chart" text to reveal the graph:
Filter the dates of data you wish to confirm. You can also set the desired count of data points by setting a "limit".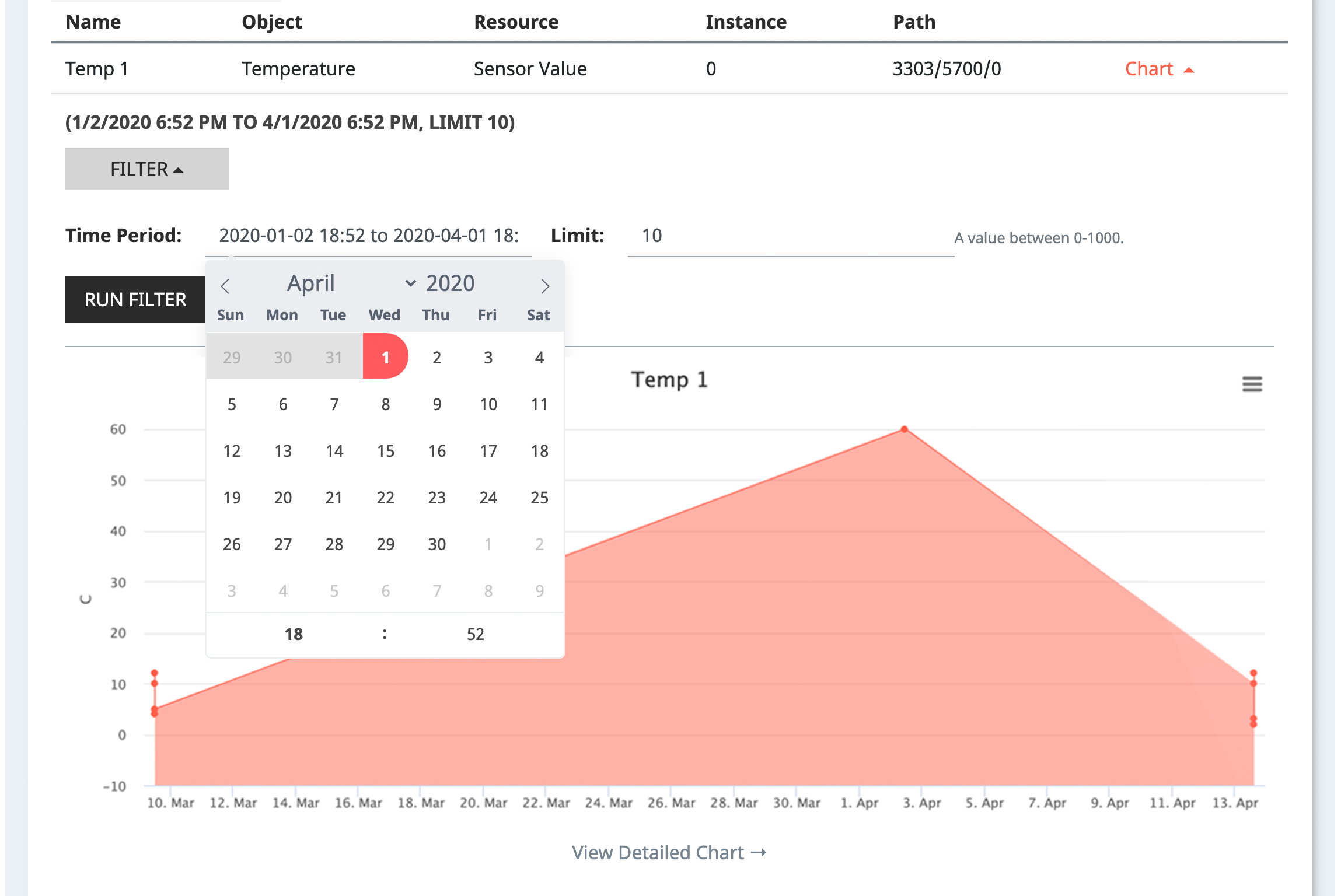 Beneath the Preview Chart, click "View Detailed Chart" to se an enhanced view.
The following image explains the detailed chart functionality: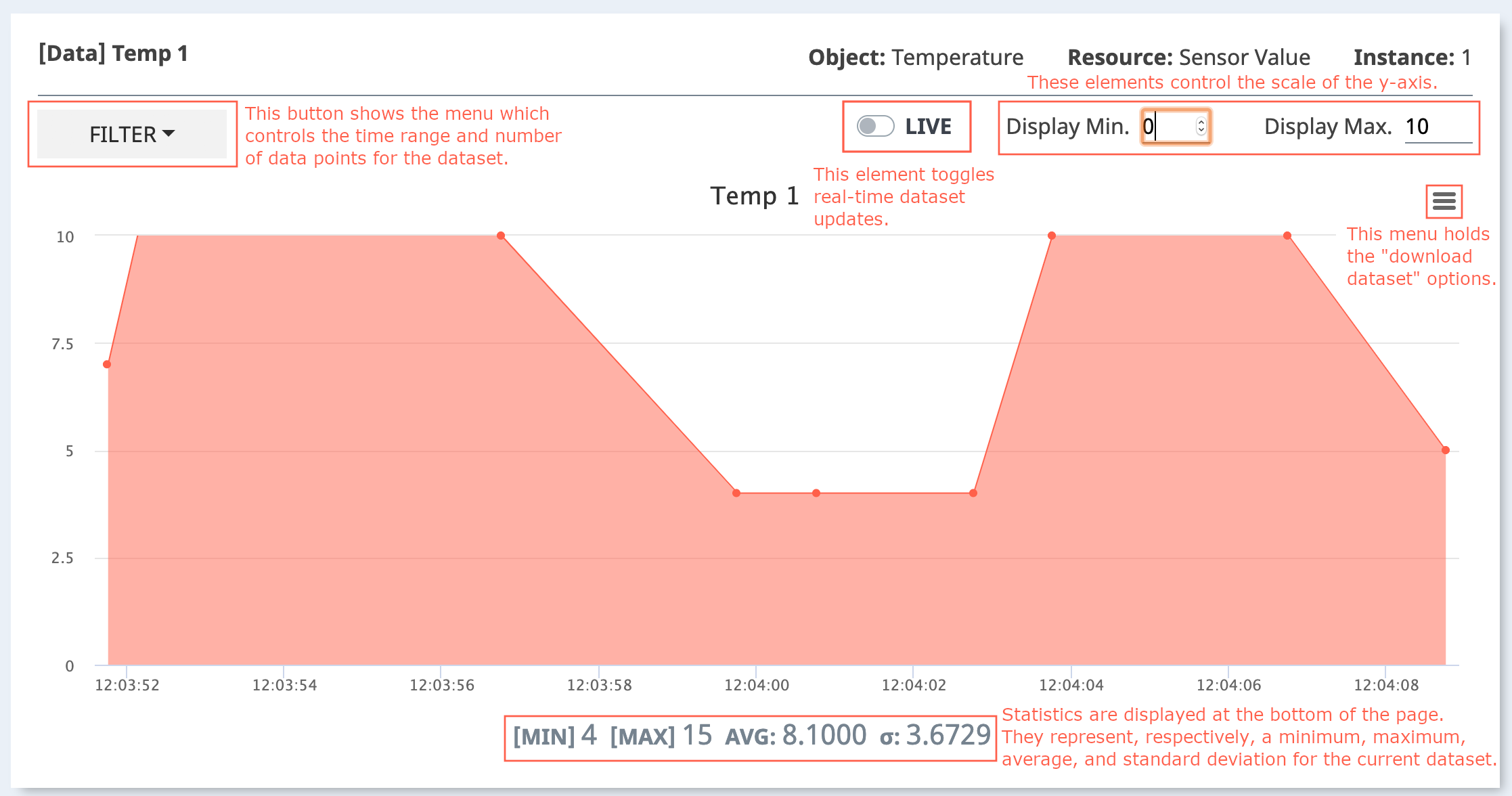 Supported Charts and Data Tables

Data stored in neqto: Cloud Infinitypool utilizes the LwM2M standard format. Based on the "Resource Type" data is sent with different types of charts are available.

The following is a mapping of which types of Charts utilize which resource type:
Line Chart

5700, 5702, 5703, 5704,5547

Bar Chart
Color Table
Data Table
If the resource type is not listed above chart functionality will default to displaying a "Data Table".
Insights

Customers using neqto: Apps Insights are able to send data to neqto: Cloud via MQTT and judge that data in the cloud based on conditional logic. When a threshold is broken, an alert can be received via slack, email, or other mediums.

To enable this feature for a Group, please enable "Insights" in the group settings.

After enabling the neqto: Apps for your group, you will need to define the conditions that your data will be judged on. This is called a "judge".

Next, via the template go to any specific component whose data you would like to monitor.

Click the "Judges" button to open the Judges list.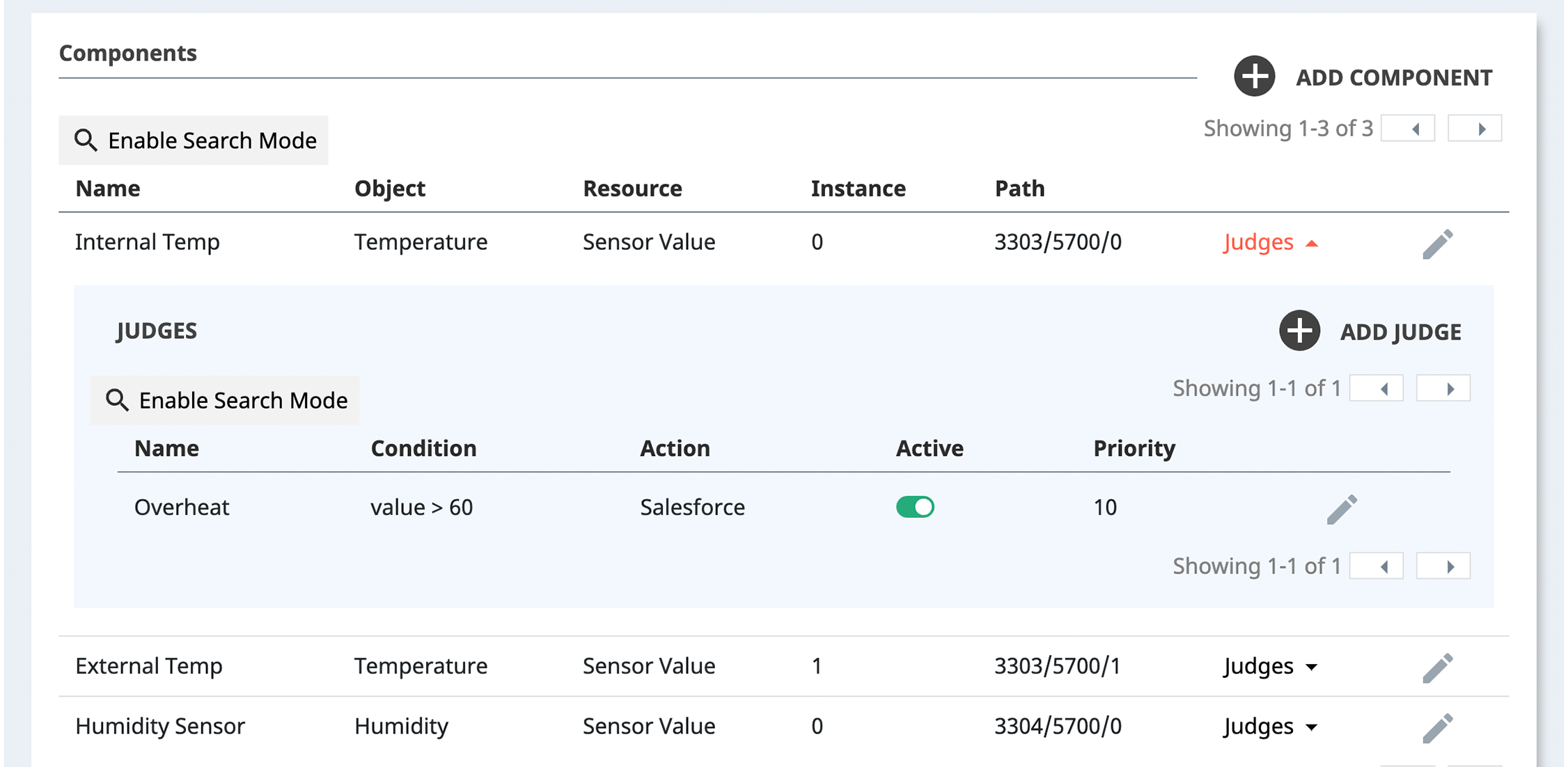 Judges

First, Judges consist of the following information:
| Field Name | Explanation |
| --- | --- |
| Name (Required) | Input a name for this alert。 |
| Note | A short description of the alerts functions. |
| Condition (Required) | A conditional logic statement based on the sensor's value (Number). |
| Priority (required) | Judgement evaluation order. (From 1) |
| Active | Is this judge active? When unchecked disables this judge, and thus prevents you from getting alerts. |
| Action | The action you would like this judge to trigger when the condition is true. |
To add a Judge
Click the "Add Judge" button in the upper-right hand corner of the Judges section.
Input the required data.
Click "Save" to register your judge.
You can edit the judge at anytime by clicking the "pencil" icon. Additionally, you can delete a judge by clicking the "pencil" icon, then the delete button in the lower-left hand corner of the dialog window.
About Conditions

The following condition raises an alert when our value is above 90.
value > 

90



value represents the sensor data value that is obtained from incoming data.
| Symbol | Meaning |
| --- | --- |
| > | Greater than |
| >= | Greater than equal to |
| < | Less than |
| <= | Less than equal to |
| == | Equal |
Concerning Priorities

Alerts are evaluated in ascending order. (From smallest value.) If a condition is met, subsequent alerts will not be ran. Thus, the most important alert should have the lowest priority value.
Example: When value is 50
| Priority | Condition | State |
| --- | --- | --- |
| 1 | value > 90 | Skip |
| 2 | value > 40 | Execute |
| 3 | value > 30 | Ignore |
Custodia

Customers using neqto: Apps Custodia are able to confirm that devices are properly sending data on set intervals and send an alert if devices miss their interval.

To enable this feature for a Group, please enable Custodia in the group settings.

This will open the group settings window, where Custodia settings can be found.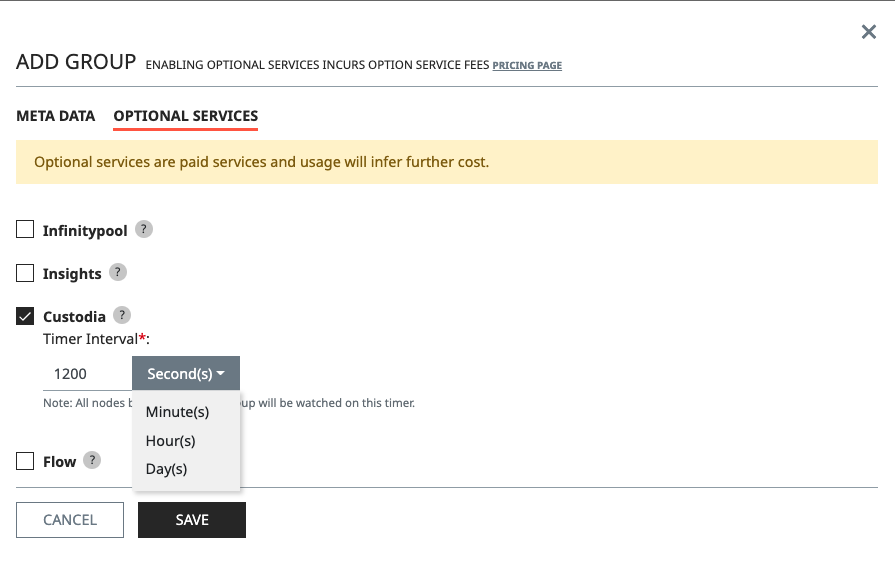 To enable Custodia, check the box next to 'Custodia', enter a 'Timer Interval' and click the 'Edit' button to save changes to the group.
It is recommended to enter an interval that is double the set transmission interval of the device.
Therefore, if a device is set to send data every 300 seconds, then it is recommended to set a 600 second Custodia.
Viewing Custodia Status

After a device has sent data, you can confirm the status of the Custodia from the "node status" section of the node dashboard.

If a node is sending data properly within the set interval then it will be in a 'Healthy' state.
If a node misses its interval then the state will change to 'Unhealthy'.
Clicking the disable/enable button next to the Custodia status in the node dashboard will disable/enable notifications on Custodia.
NOTE: Billing will still occur during a 'Disabled' state if a node is sending data. To not be billed you must turn Custodia off and disable it on the group.
After disabling the Custodia on a node, that node will enter a 'Disabled' state.
After re-enabling, the Custodia will resume and enter a 'Pending' state until the node sends data or the timer runs out.
Notifications regarding Custodia will appear in the Event Log on the Node dashboard as a "Custodia" event.

Custodia Notifications can trigger Actions via Notifications.
When adding or editing a new notification, select 'Custodia' as the type and the level of notification according to the chart below.
| State | Level |
| --- | --- |
| Healthy | Info |
| Unhealthy | Warn |
| Disabled | Info |
| Pending | Info |
---
Updated: 2020/7/28